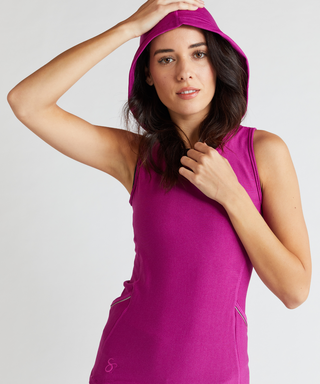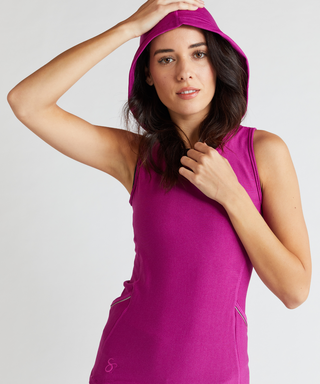 Description
Discover our Tank Hoodie, a bespoke masterpiece designed to redefine comfort and style in activewear.
Tailored for those seeking a blend of ease and elegance, this Tank Hoodie is a versatile must-have, ideal for various sports including running, tennis, pickleball, hiking, and walking. Its intricate detailing and cut-out back infuse a touch of luxury and sophistication, catering to the style-conscious fitness aficionado.
Experience an unmatched fusion of warmth, coziness, and style with our Polartec® Power Stretch Pro fabric. This fabric epitomizes excellence, offering remarkable softness and enduring quality for every workout. The controlled 4-way stretch, and recovery ensure a flawless fit, while the ultra-soft microfleece interior guarantees added comfort and warmth.
The micro-fleece hoodie comes packed with features, including two side pockets adorned with reflective 3M High Glow markers for enhanced visibility during nighttime activities.
Flat-lock stitching ensures chafe-free comfort, while the fabric's moisture-wicking, odor-resistant, anti-fade, and water-repellent properties guarantee exceptional quality.
With UPF 50+ sun protection, this hoodie becomes an impeccable choice for outdoor ventures. Proudly crafted in the USA, it stands as an essential component of any upscale activewear wardrobe.
Whether you're conquering a marathon, scaling a mountain, or leisurely strolling through the park, this Hoodie Tank will effortlessly elevate your high-end activewear game.
Join our SportPort™ Active community today and immerse yourself in the pinnacle of high-end activewear.
Read more...
Mom approved!
As a mom always on the go, I love that this hoodie can keep up with me, whether I'm chasing my toddler or lifting weights. Plus, the pockets are a lifesaver for stashing snacks and keys.
Five stars
I was a bit skeptical about the anti-odor claim, but after a sweaty spin class, I'm a believer. Smells as fresh as when I first put it on!
Long time customer
I've purchased many of the SportPort pieces.
Sustainable at its core
I'm a stickler for sustainable fashion, so knowing this is made in the USA, likely with a smaller carbon footprint, makes me feel good about this purchase.
Love details
From the stitching to the fabric, everything about this hoodie shouts top-tier quality. Worth every penny.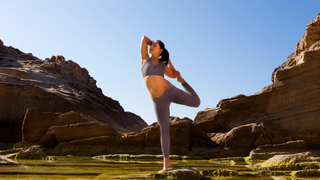 Extraordinary Activewear On Sale
Shop the Sale