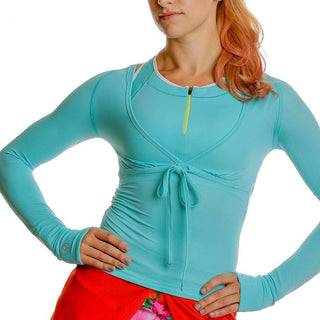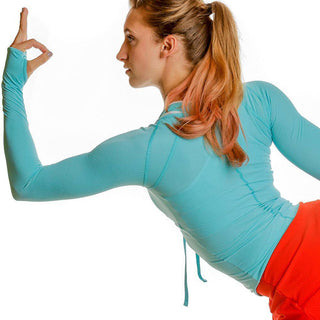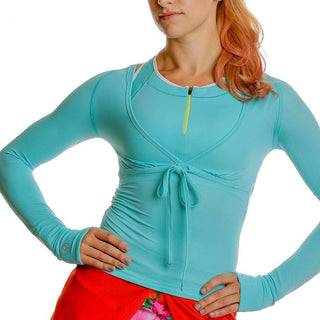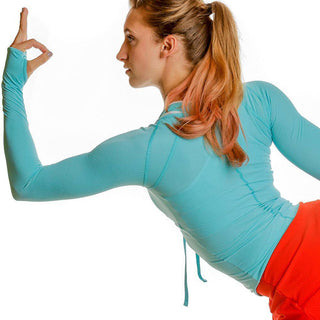 Description
Escalate your fitness routine with SportPort™ Active's perfectly designed Tech V-Neck Long Sleeve Cover-Up. Fast drying, ultra-lightweight, versatile, and UPF 50+ protection, this full-length top combines style and functionality.
Thumbholes are a thoughtful addition, keeping the long sleeves securely in place as you move around. Made in the USA for quality you can trust.

Our Tech V-Neck Long Sleeve Cover-Up, is the perfect multi-faceted addition to your fitness wardrobe. Designed for active individuals, weekend shopping, concert dwellers, or beach babes, this versatile crop top is moisture-wicking and quick-drying, making it effortless to throw on for any occasion.
Cover-up for extra sun protection. This product is rated UPF 50+, great for outdoor sports activities. Our thoughtful design ensures the bottom stays put and never rolls up for a comfortable and reliable look.
Made with our innovative LYCRA® SPORT fabric, SportPort™ ensures you stay cool even during intense workouts. Made with excellent stretch & recovery, we guarantee this piece will remain fitted and never stretch out.
Enhance your fitness experience with SportPort™ and embrace style, comfort, and performance in this layering piece.
Read more...
Quality Plus Care
The quality is top-notch, but the fact that it's also easy to care for? That's a huge bonus.
All-Season Sun Protection
I love that it's light-weight, but still offers sun protection. Perfect for all seasons.
Easy-Care Magic
I love how it's easy care. I just toss it in the wash, and it comes out looking brand new.
Light Yet Durable
Usually, 'durable' means 'heavy,' but not with this top. It's light yet made to last.
Festival-Proof UPF
The UPF 50+ is no joke. I spent a whole day at a music festival and didn't even get a tan line.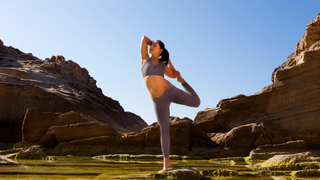 Extraordinary Activewear On Sale
Shop the Sale