LYCRA®: The Gold Standard in Spandex Technology
Experience unparalleled comfort and durability with pieces that move with our bodies.
Since its groundbreaking invention over sixty years ago, LYCRA® fiber has become the epitome of spandex excellence. This lightweight and virtually invisible fiber has revolutionized the way we wear clothes, as it effortlessly transforms garments into better fitting, durable pieces that move with our bodies.
Our compression garments are carefully crafted to maximize the benefits of LYCRA® fiber. Its exceptional stretch and recovery properties ensure optimum support and compression, promoting faster recovery and enhancing performance.
By selecting fabrics with LYCRA®, we guarantee premium quality activewear that supports your fitness goals and takes your performance to the next level.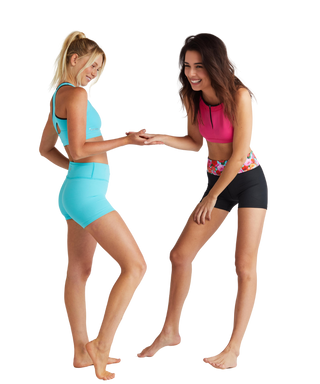 The Athlete's Choice for Fit and Durability
Worn by athletes and enthusiasts alike, LYCRA® fiber is the active ingredient that delivers unparalleled fit, shape, and comfort, day after day.
Wash after wash. Run after run. Swim after swim.
Its exceptional stretch and recovery properties have made it the go-to synthetic elastane fiber for manufacturing compression garments.
When it comes to compression activewear, LYCRA® fiber reigns supreme. Its superior elasticity and support make it the perfect choice for high-performance activewear. Unlike traditional spandex, LYCRA® has a higher tensile strength and increased durability. This means that it maintains its shape and compression over time, ensuring optimal performance wear after wear.
But that's not all.
LYCRA® fiber also boasts excellent moisture-wicking properties, making it breathable and comfortable to wear during intense physical activity. At SportPort Active, we harness the power of LYCRA® in our compression activewear to provide targeted support to muscles, improve blood flow, and reduce muscle fatigue and soreness.
SportPort™'s LYCRA® Fabrics
Transforming garments into perfect-fitting, long-lasting essentials
Explore SportPort™ Fabrics
At SportPort™, our steadfast commitment to sustainability informs every stage, from initial design to long-term garment care. The premium, durable fabrics we select not only amplify your athletic prowess but also extend the durability of each piece in your collection.
Delve into our extraordinary fabric selections and the thoughtful philosophy that guides them.