Description
Indulge in yoga attire with the Setis Yoga Sports Bra, by SportPort Active, a perfect fusion of style and support for women's activewear.
Our women's sports bra offers a harmonious blend of medium support and full coverage, ensuring your comfort during yoga practice, jogging, riding bikes, or meditating in the park. Its racerback design guarantees a secure fit, enhances support, and allows unrestricted movement in various yoga poses.
Crafted from a soft brushed fabric featuring a luxurious matte finish that feels as soft as suede, this bra offers exceptional flexibility with its 4-way stretch fabric. It's designed to keep you comfortable and dry with its moisture-wicking inner bra lining.
The standout feature of this bra is its patented EMF protective phone pocket, allowing you to stay connected without compromise. An internal reinforced lining provides targeted support where it's needed most, offering confidence in every pose.
The soft 2" wide elastic band ensures stability throughout your practice. This wireless yoga sports bra features molded, seam-free, and removable cups, providing the customization of comfort and support you desire.
Advance your yoga experience with a perfect blend of style and functionality with our Setis Yoga Sports Bra, feel the difference it makes in your practice.
Read more...
Goodbye Underwire, Hello Comfort!
The wireless feature is a revelation. Goodbye underwire, hello comfort!
Full Coverage for Larger Busts
As someone with a larger bust, the full coverage is truly appreciated. Feel secure, but not squashed.
Perfect Sizing Tips
I was worried about sizing, but it runs a bit large so sizing down was perfect. Fits like a glove!
No Pinch, Just Convenience
Finally, a bra that doesn't pinch or bind and has a pocket for my phone. Two thumbs up!
EMF Pocket for Peace of Mind
The EMF pocket gives me peace of mind. I didn't even know I needed it, but now it's essential.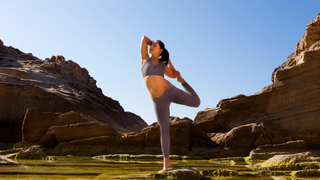 Extraordinary Activewear On Sale
Shop the Sale