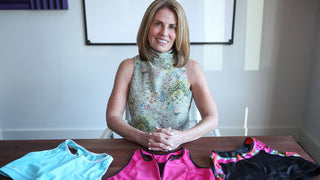 Visionary founder of SportPort™
Kim Highfield
Championing athlete health through innovative apparel design
 A dedicated athlete and health minded founder, Kim Highfield realized there was something missing in the athletic apparel world. She noticed that with the increased attention on wearable technology, people were using their cell phones while exercising. Her concern for the health of athletes exposing themselves to prolonged periods of cell phone usage inspired an idea. As a result, SportPort™ was born, incorporating high performance, patented technology into athletic apparel. Several years were devoted to research, technology development, and on-athlete product trials before the first products were launched in 2015. 
Our Mission
Behind the Scenes at SportPort™
Our Mission
Behind the Scenes at SportPort™
Product Development & Design
Our design team draws inspiration from their own athletic experiences and can envision what modern athletes want and need in their performance clothing. With expertise in compression apparel engineering, our lead designer puts her knowledge into each garment design. The team collaboratively has extensive backgrounds in high-end design, luxury product development and wearable technology, their sportswear designs reflect ultra-current fashion trends and well-designed storage. SportPort™ is fortunate to have a team of who understands knit compression fabrics and performance materials so they can create the best quality athletic garments available.